Sale price
$19.97 USD
Regular price
$25.00 USD
Unit price
per
Sale
Sold out
Calmness and Relaxation
Helps Regulate Sleep Patterns
Supports Normal Stress Levels
Helps Maintain Optimal Health
View full details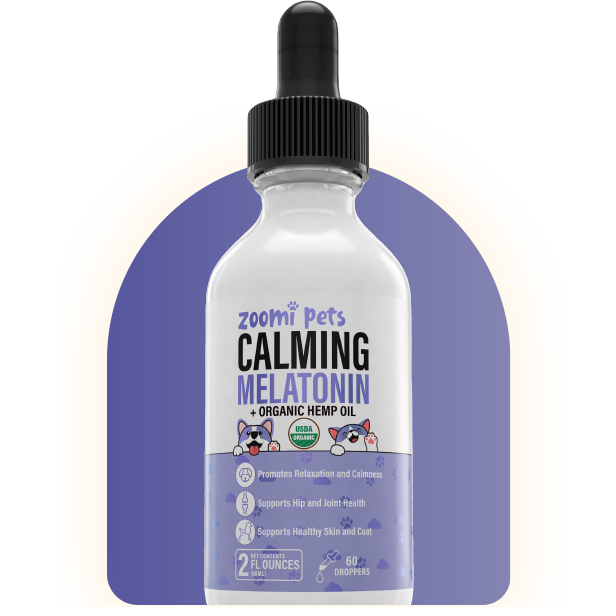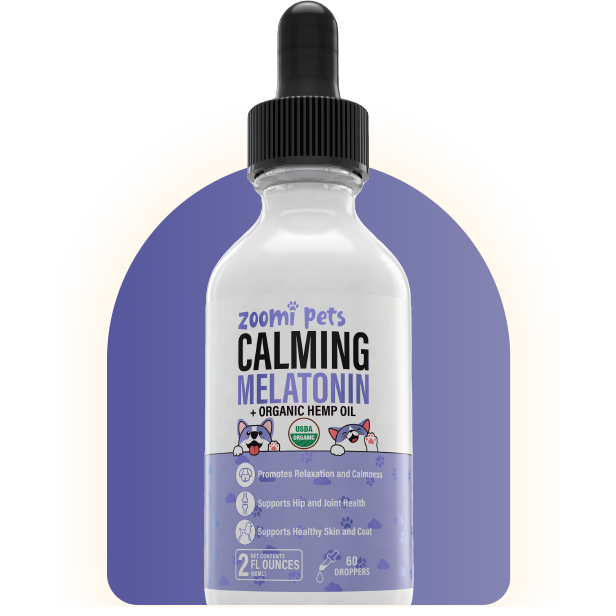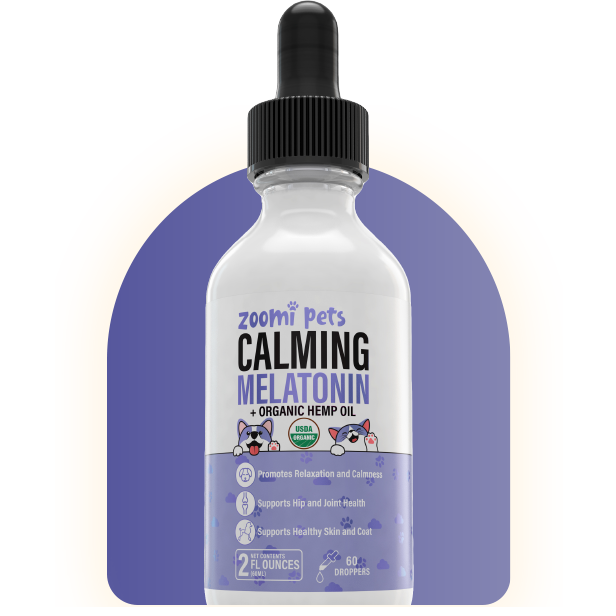 Is your pet experiencing stress from traveling, hospitalization, moving or other situations that may cause anxiousness? Or are they so full of energy that you can hardly keep up? Zoomi Pets certified organic Hemp Seed Oil with Melatonin is a natural supplement that provides numerous benefits for your pet's overall well-being and is an effective way to provide seasonal allergy support while calming their nerves.
Zoomi Pets Calming Melatonin Drops can help promote calmness and relaxation during common stress-inducing events such as:
Thunderstorms and fireworks
Loud noises such as vacuuming and construction work
Changes in routine or surroundings, such as moving to a new home
Separation anxiety or being left alone for long periods of time
Introducing a new pet or person into the home
Visits to the vet or grooming appointments
Car rides and trips to unfamiliar places
Changes in family dynamics, such as the loss of a human family member or pet
Overstimulation from too much excitement or attention
Physical discomfort or pain
Formulated with 3mg of Melatonin per dropper, Zoomi Pets Organic Calming Melatonin and Hemp supplement can help regulate natural sleep patterns in animals. Enjoy the benefits for your pet with our liquid formula which is more bioavailable and easier to digest than traditional pills or chews so they are better absorbed into the body.
Paw-erful Benefits
With natural calming hemp and melatonin drops, you can help keep your pet calm and relaxed during thunderstorms, separation, grooming, fireworks, car rides, and other stress-inducing events! Our formula is also rich in omega 3 fatty acids making it a natural antioxidant which supports cellular health, normal bodily functions, and so much more.
What's Inside?
MELATONIN 3mg Per Dropper (1ml)
Regulates Sleep Cycles: Melatonin is a naturally occurring hormone that helps regulate sleep patterns, ensuring that your pet gets the rest they need to wake up feeling refreshed
Helps Cope With External Stresses: Melatonin has been known to have a calming effect on pets, helping to reduce the effects of normal environmental stress from traveling, hospitalization, moving, or other situations that may cause anxiousness.
Promotes Relaxation: Melatonin can help pets to relax and feel more at ease, making it easier for them to fall and stay asleep.
Supports Cognitive Function: Studies have shown that melatonin can have a positive impact on mood and cognitive function in pets, helping to improve overall well-being.
ORGANIC HEMP OIL 857mg Per Dropper (1ml)
Helps Maintain Calmness: Hemp seed oil is known to help animals maintain a normal and relaxed disposition.
Provides Antioxidant Support: Contains powerful antioxidants to help remove damaging free radicals and support the immune system for skin and allergy support.
Supports Healthy Joints and Occasional Discomfort: Hemp seed oil contains omega-3 fatty acids which help to decrease normal inflammatory pathways. These fatty acids are also vital to maintain healthy joints and may help relieve inflammation associated with normal daily activity.
Superhero Ingredient That Packs a Punch: Hemp seed oil is packed with vitamin A, C and E, as well as potassium, magnesium, and calcium to help maintain overall health in pets.
Easy to Serve
Our organic hemp oil with melatonin is a potent alternative to hard-to-feed capsules or chews with unnecessary filler ingredients. The convenient dropper makes it easy to add to your animal companion's daily routine. With a natural nutty flavor, watch your pet lick their bowl clean!


Don't Snooze On This Deal!
Try our premium USDA organic hemp seed oil with melatonin today and see the difference it can make in your furry friend's overall well-being and vitality. From promoting calmness and relaxation to supporting normal stress levels, our calming melatonin is the paw-fect solution for your pet's needs.
VS
other brands
Hemp Per Dropper (1 ml)

Melatonin Per Dropper (1 ml)

No Artificial Flavors

3rd Party Lab Flavors

Hexane Free

Made with Organic Ingredients

Made in USA